Please Call 1-858-776-0553 for pricing and availability. Thank you.
CERTIFICATE OF ANALYSIS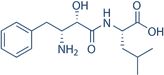 PRODUCT: Bestatin or Ubenimex (Synthetic)
([2S,3R]-3-Amino-2-hydroxy-4-phenylbutanoyl)-L-leucine
PRODUCT No.: B174
CAS: 58970-76-6
LOT No.: B-20033285
MW: 308.37
STORE: -20º C
FORMULA: C16H24N2O4
Country of Origin: Germany
Analysis
Specification
Results
Appearance
White powder
Conforms
Purity (HPLC, 220 nm)
≥98% (area)
≥99%
Elemental Analysis (as hydrochloride):
(C)
(H)
(N)
.
62.32% (theoretical)
7.84% (theoretical)
9.08% (theoretical)
.
61.9%
7.8%
9.0%
Solubility
50 mg/mL in 80 %AcOH
Clear, Colorless
Conforms
Stability:
Stable at -20º C if desiccated and properly stored for at least 24 months.
Short term 2-8º C. Ships with blue ice.
QUALITY ASSURANCE:
Verified upon data received from supplier.
FOR RESEARCH or FURTHER PROCESSING – NOT FOR HUMAN or DRUG USE