Please Call 1-858-776-0553 for pricing and availability. Thank you.
CERTIFICATE OF ANALYSIS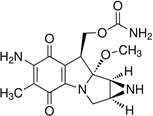 PRODUCT: Mitomycin C
from Streptomyces caespitosus
PRODUCT No.: M368
CAS: 50-07-7
LOT No.: M-101139
MW: 334.33
STORE: +4º C
RTECS: CN0700000
TOXICITY: Toxic
Toxic if swallowed.
FORMULA: C15H18N4O5
Analysis
Specification
Results
Appearance
Blue-violet crystalline solid
Conforms
Identification NMR
Conforms to Structure
Conforms
TLC (NP, CH2Cl2:Methanol 90:10)
>99%
conforms
Solubility
10 mg/mL DMSO or Methanol
Clear, Blue-violet solution
<1 mg/mL in Water
May be soluble in other solvents
Conforms
Stability
Stable at -20º C for at least 2 years according to published data.
Store dry and protect from light. Ships ambient.
QUALITY ASSURANCE:
Verified upon data received from supplier.
FOR RESEARCH or FURTHER PROCESSING – NOT FOR HUMAN or DRUG USE