BIOtech Now
admin


Editor's Note: As part of BIO's 25th Anniversary celebration we will be spotlighting biotechnology innovations that have made a major impact over the past 25 years.  This "Innovation Series" will publish on the 25th of every month throughout 2018. We kick-off this month with personalized medicine.
One size does not fit all when it comes to medicine. Treatments that help some patients fail to help others, and the same medicine may cause side effects in only certain patients. As a result, health systems often deliver inefficient care that fails to help large portions of the patient population — at a notable financial cost as well.
That's where personalized medicine comes in.
Personalized medicine, sometimes called precision medicine, is an evolving field in which physicians use diagnostic tests, often genetic, that help determine which medical treatments and procedures will work best for each patient. By combining this information with an individual's medical records, circumstances and values, personalized medicine allows doctors and patients to develop targeted treatment and prevention plans.
Personalized medicine is having a major impact on health care.
For example, one notable personalized medicine, Gleevec, approved in 2001, has transformed the treatment of chronic myeloid leukemia (CML). The American Cancer Society now credits Gleevec and other personalized medicines in large part for a five-year CML survival rate that has more than doubled over the past two decades, from 31 to 68 percent. Called "targeted therapies," the personalized medicines used to treat CML work by disrupting the function of proteins produced only by diseased cells.
More recently in oncology, the U.S. Food and Drug Administration (FDA) approved a different kind of personalized therapy, called Keytruda, for the treatment of solid tumors anywhere in the body. Keytruda helps the body's own immune system attack cancer, and was approved for use on any tumor that expresses "microsatellite instability" or "mismatch repair deficiency," genetic features that make it easier for immune cells to recognize cancerous cells.
Targeted therapies are also helping patients with rare diseases. A landmark study published in The New England Journal of Medicine, for example, suggests that a targeted therapy approved by FDA in 2012 can help reduce some of the most extreme effects of cystic fibrosis by 55 percent, helping patients with this disease live longer, healthier lives.
Some of the most recently approved personalized medicines, called gene therapies, take the science a step further by correcting genetic mutations in human cells. FDA approved the first gene therapies in 2017, for the treatment of acute lymphoblastic leukemia and a genetic form of blindness.
Doctors can also use personalized medicine to help patients avoid the trial-and-error process usually associated with learning whether a treatment option that works for many patients is likely to work for them.
These approaches exemplify how personalized health care can help detect the onset of disease at earlier stages, pre-empt the progression of disease, and, at the same time, make our health system more efficient — and they underline the need for up-to-date public policies and clinical practices that keep pace with the implications of new scientific discoveries.
About Christopher Wells: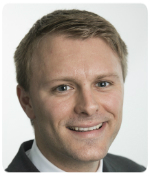 A published expert in public affairs, Christopher Wells has worked with the personalized medicine community for nearly three years to coordinate the communication of the field's complex principles to diverse audiences. As Vice President of Public Affairs, Wells oversees the development of PMC's marketing and communications messages and leverages a comprehensive portfolio of digital and traditional communications tools to increase awareness and understanding of personalized medicine in the United States and internationally. He also oversees content development for the Annual Personalized Medicine Conference at Harvard Medical School.
Prior to joining PMC, Wells worked as a research assistant at Binghamton University, where he graduated with a master's degree in public administration and received the University's Department of Public Administration Alpha Student Award. He holds a B.A. from the State University of New York at Brockport, where he was honored with Department Scholar's Awards in both journalism and international studies.
Powered by WPeMatico