BIOtech Now
Andrew Segerman

As we see time and time again, health insurance providers and pharmacy benefit managers (PBMs) are beginning to shift a much greater portion of prescription drug costs to patients and consumers. In many cases, these requirements can cost thousands of dollars out of pocket and often result in limited access to essential medicines – a dangerous and expensive combo.
To offset these costs, many pharmaceutical companies offer programs that assist patients with their out of pocket costs, including deductibles and co-pays, for their prescriptions. These financial contributions made by the drug manufacturer help patients afford their medicine while paying down their health insurance deductible and continue until the individuals' deductible and out-of-pocket maximum limits are reached. At that point, the health plan picks up the rest of the tab.
Yet in recent months, health plans and PBMs have begun to implement "co-pay accumulator" programs – an effort to prevent funds provided by these assistance programs from applying to a patient's out of pocket maximum or deductible. As a result, patients are left with steep costs when the value of patient assistance is exhausted.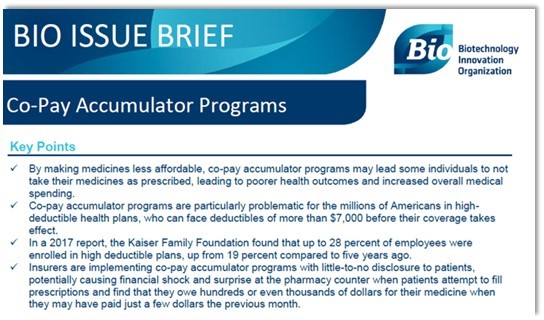 For more on this emerging practice, check out our latest issue brief.
Powered by WPeMatico