BIOtech Now
Andrew Segerman


Experts recently gathered on Capitol Hill to discuss how importing foreign price controls will lead to less innovation and less patient access to breakthrough treatments. Leaders in biotech innovation, as well as within the patient community, have been sounding the alarm over a Trump-administration proposal that would tie drug prices in Medicare Part B to what foreign countries with socialist health care systems are willing to pay. As Joe Damond, BIO's executive vice president for international affairs, warned:
"As policymakers work to lower the cost of prescription drugs, they need to consider the consequences that simplistic and short-sighted policies—like adopting foreign price controls—will have on patients and our ability to develop new cures and treatments.

"America's patients have access to first-in-class, innovative medicines that patients in other countries often wait months and even years to access. Imposing foreign price controls on American innovation will slow the tremendous progress that's been made fighting disease at the expense of patients in need."
This point was reaffirmed during last week's event. Duane Schulthess, Managing Director at Vital Transformation, presented new data that shows how the administration's proposal would disproportionately impact some of the more innovative biopharmaceutical companies, particularly those treating cancer and neurological disorders." As BIO's President and CEO Jim Greenwood has noted before:
"Developing new medical treatments for seniors suffering from devastating diseases, such as cancer, Alzheimer's and rheumatoid arthritis, is one of the hardest, riskiest, and costliest endeavors undertaken by America's biomedical innovators. That is why BIO has repeatedly urged the administration to work with us on market-based reforms that will promote competition and lower drug costs, without harming our nation's innovative ecosystem that leads the world in discovering new cures and treatments. It is deeply unfortunate the Trump administration has proposed pursuing a radically different approach."
If you missed last week's congressional briefing, click here to learn more about how importing foreign price controls is bad for patients and bad for innovation.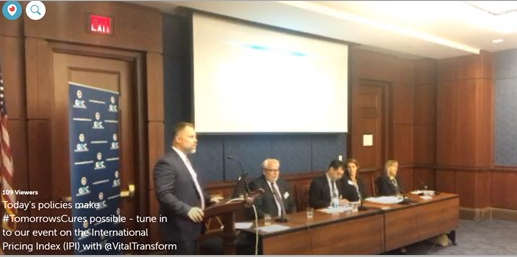 Powered by WPeMatico