BIOtech Now
Andrew Segerman

Drug prices will be in the spotlight this week as committees in both the House and Senate are set to hold hearings on the cost of prescription drugs. Since this is the first time the new Congress will take a close look at this important issue, here are four facts we encourage policymakers to keep in mind.
Fact #1: Drug prices are headed in the right direction. The proof is in the data. The White House Council of Economic Advisers recently announced that drug prices decreased in 2018: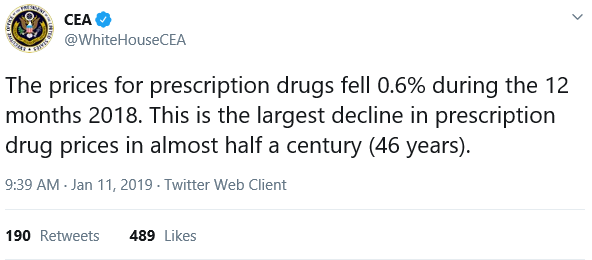 This data reaffirms a positive trend that has been evident for quite some time.

Fact #2: Out-of-pocket costs are on the rise. While health care costs remain a top concern for many Americans, insurance companies and pharmacy benefit managers (PBMs) have been shifting a much greater portion of prescription drug costs to consumers. This growing burden can cost patients thousands of dollars out of pocket and often result in limited access to essential medicines. Evidence of this trend continues to mount:
This shifting burden makes little sense when one considers that just 14 cents of every dollar spent on health care in the U.S. goes toward prescription drugs. Meanwhile, the real drivers of health care spending are payments to hospitals and doctors, which are expected to grow by $1.1 trillion over the next decade.
Fact #3: The vast majority of biotechnology companies driving innovation are pre-revenue start-ups. It is rarely mentioned when the biopharmaceutical industry is the center of the discussion, but small, emerging companies are at the forefront of the search for new cures and therapies. In fact, biotech start-ups conduct 70 percent of all clinical trials worldwide. Many of these trailblazers have no products yet on the market. They rely almost entirely on raising capital from investors, rather than product sales, to fund their research and development. In fact, approximately 90 percent of biopharmaceutical companies are not profitable – and 90 percent of clinical-stage programs fail.
Fact #4. Market-based solutions are needed to make health care work. That's why we've teamed up with the Council for Affordable Health Coverage – a group of pharmacy benefit managers, drug manufacturers, insurers, patients, consumers and employers – to promote market-based policies and help ensure all patients have access to affordable, innovative cures and treatments that they need and deserve.
For example, competition in any given market naturally helps drive down prices. And as BIO and the Council have pointed out before, this fact is no less true in the prescription drug market. Furthermore, policymakers should consider adopting innovative payment models based on value – not volume. Doctors and hospitals are increasingly being paid not for the quantity of care they provide, but for the outcomes patients receive. The same should be true for innovative medicines.
Our free-market approach is why the United States leads the world in biomedical innovation. Rather than advancing heavy-handed policies that would stifle innovation and do little to lower what patients pay for medicines, we should encourage policymakers to advance commonsense reforms that are proven to work.
To learn more about the cost & value of innovative pharmaceuticals, visit DrugCostFacts.org.
Powered by WPeMatico