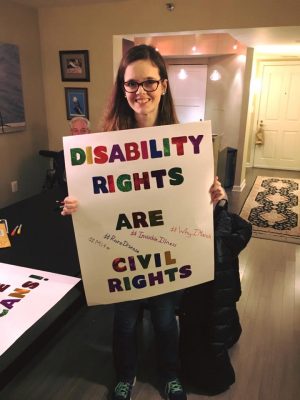 BIOtech Now
Jim Greenwood
I have known Liz Kennerley for more than 20 years, since before the onset of her mitochondrial disease. Her father and I were high school classmates, and our families have spent summers together vacationing on the Jersey Shore.
Over the years, Liz and I have had many long talks about her disease and her frustration with some of her doctors, her insurance company and her government. For Liz, the uncertainty surrounding the repeal and replacement of the Affordable Care Act means uncertainty about whether she'll be able to keep medical appointments and afford her monthly premiums.
But these candid conversations about overcoming hardships are not the side of Liz most people see. Simply put, Liz is one of the most inspiring and determined people I've ever known. When I think about the hurdles she has to jump – the resolve and grace she displays in performing strenuous daily tasks that you and I take for granted, like taking off a coat – it helps me redouble my efforts to meet whatever challenges my day may bring.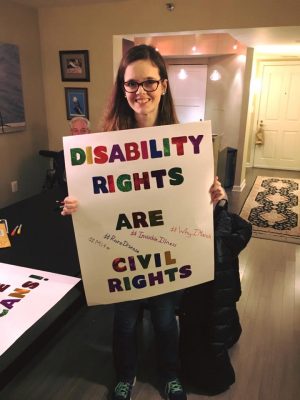 Mitochondrial disease is a group of rare genetic disorders that affects 1 in 4,000 people, according to the United Mitochondrial Disease Foundation. Almost all human cells have mitochondria, tiny power sources that produce energy in our bodies. With mitochondrial disease, the power shuts off and our bodies don't function normally.
No two people with the disorder have exactly the same symptoms. Doctors say it impacts the brain, heart and muscles to varying levels and is difficult to diagnose precisely because it affects people so differently. Symptoms can include respiratory and neurological problems, muscle weakness, developmental delays, and in Liz's case, fatigue.
"Everything has to be checks and balances," she says of managing her daily routine. "If I want to do something, I ask myself: Is it worth it? Will I be kicking myself three days from now if I'm too tired? Imagine all of your electronics – your laptop, iPhone, iPad – barely have any battery life left. Which device do you use and for how long? That's mito."
Liz is prescribed as many as five medications for her symptoms, including insomnia, seizures and migraines. And yet despite these challenges, she has dedicated her life to being a change-maker. She is a tireless patient advocate for the United Mitochondrial Disease Foundation, helping the medical community and drug innovators understand what it's like to live with the disease they are trying to treat and cure.
At the recent women's march in Washington, D.C, she could be seen advocating passionately for the rights and dignity of persons living with disabilities, brandishing her homemade sign that read "Disability Rights Are Civil Rights!"
Liz sometimes accompanies our industry's CEOs to meet with members of Congress during BIO's annual Fly-In. She has testified before government panels on the perils of living with a rare disease. In her presentation, one of her slides features lightning striking not once, but twice, illustrating the two strokes she has suffered over the last 15 years while living with mitochondrial disease.
Today is Rare Disease Day, a time to remind our fellow Americans that 30 million people in this country have a rare disease. It's an opportunity to take stock of the progress we've made in rare disease treatments and to advance policy changes that incentivize rare disease research.
The year 2015 was record-breaking for orphan drug approvals to treat diseases affecting small patient populations  The Food & Drug Administration (FDA) approved 21 drugs with orphan indications. Nearly half of the FDA approvals in 2015 were for orphan drugs, including new medicines to treat Multiple Myeloma, Cystic Fibrosis and a range of pediatric rare diseases.
Despite this success, we know more work needs to be done. Today there are around 450 FDA-approved orphan therapies, but more than 7,000 rare diseases. That means that 95 percent of rare diseases currently have no treatment.
Over the last 10 years, we have seen an increase in investment into rare disease treatments. This inflow of private capital is helping to fund nearly 500 rare disease clinical trials. This number illustrates our industry's commitment to work as hard as we can for people like Liz, who we know are counting on us.
We scored a significant victory late last year in Washington in our fight. Congress, in an act of rare bipartisanship, came together to pass the 21st Century Cures Act in the final weeks of the Obama presidency. The legislation not only pours billions of dollars into basic medical research, but it also puts the patient perspective more front and center in drug development – in everything from how to design clinical trials to how a medicine's benefits should be balanced against its risks in FDA approval decisions.
Liz was a strong advocate for the Cures bill, lighting up her Twitter account @LifeAccordingLiz with her daily tweets: "Funding + understanding + patients = Cures! #CuresNow." She says listening to the patient's voice is one of the most critical pieces of the new law. Scientists will actually start gathering data by asking patients what it's like to fight their rare disease, documenting these experiences to help create and improve future treatments.
I know the day will come when the biopharmaceutical industry finds a cure for mitochondrial disease. I also know that a cure would help us solve other medical mysteries because neurodegenerative dysfunction is central to many disease processes. Until that day comes, I know that I'm truly blessed to have a friend like Liz Kennerley whose unbreakable spirit is as rare as her medical condition.
Greenwood, a former six-term member of Congress, is CEO of the Biotechnology Innovation Organization (BIO).
Powered by WPeMatico