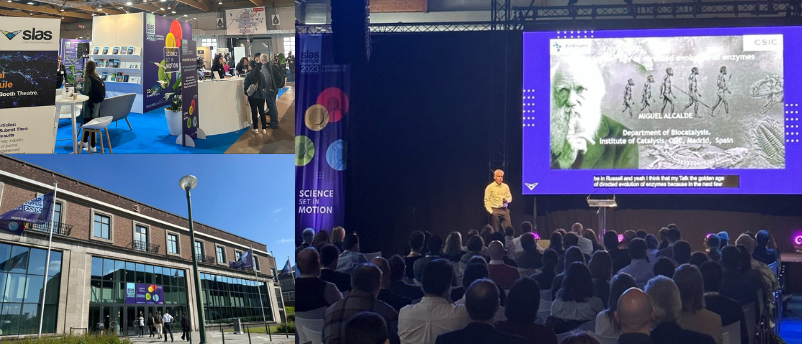 BioTechniques News
Aisha Al-Janabi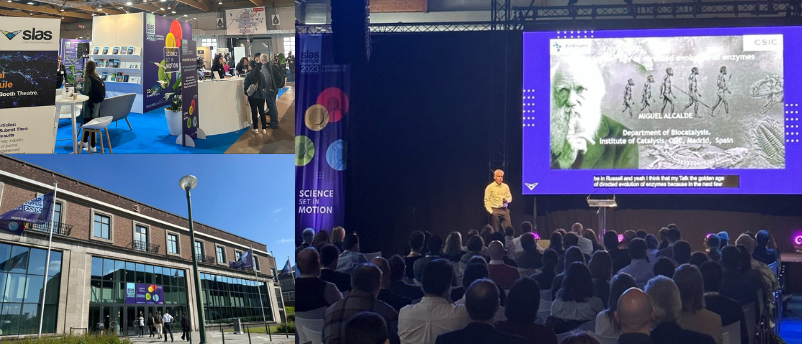 The Society for Laboratory Automation and Screening (SLAS; IL, USA) Europe took place in Brussels (Belgium) on the 22–26 May 2023 and brought together a diverse community of scientists, researchers and industry experts from across Europe and beyond. The conference program featured a wide range of cutting-edge topics and discussions, from advancements in laboratory automation to breakthroughs in drug discovery, in addition to the latest technological innovations and solutions, which were showcased on the exhibition floor. 
Setting science in motion and a return to Belgium
SLAS is a US-based organization dedicated to advancing scientific innovation by providing education, collaboration and professional development opportunities that unite scientists across disciplines to transform research. They held their first European conference and exhibition in Brussels in 2018, and this year returned to the Brussels Expo for SLAS Europe 2023.
This year's conference was themed 'Science set in motion' and included over 100 exhibitors, scientific sessions, Solutions Spotlights and special interest groups.
Opening the conference on Wednesday morning, Miguel Alcalde of The Institute of Catalysis and Petrochemistry (ICP; Madrid, Spain) gave the keynote presentation on the 'Golden age of directed evolution of enzymes'. Driven by advancements in mutant library creation methods and high-throughput screening assays, Alcalde's presentation showcased the significant progress made in this fascinating field.
From there, the conference schedule incorporated four dedicated tracks across different aspects of the life sciences field and their impact: 'Biology unveiled', 'Frontiers in technology', 'Shaping the future of therapeutics' and 'Bio-entrepreneurship in Europe'. Featuring a broad range of insights and perspectives, each track included 17 presentations from specialists in their respective fields.
Biology unveiled
Across four sessions, the 'Biology unveiled' track explored key research focuses and cutting-edge developments within this extensive topic.
The track opened on Wednesday morning with 'Micro-environment and complexity', before leading into 'Innovative strategies for target identification', where Matthew Coelho (Wellcome Sanger Institute, London, UK) described the use of high-throughput base-editing mutagenesis screens in cancer cells and tumor-derived organoids to aid interpretation of DNA variant function, with implications for precision medicine approaches.
Thursday's sessions delved further into 'Advanced disease models' and 'Precision medicine in the future', which featured a presentation from Anders Staahlberg (University of Gothenburg, Sweden), discussing the use of personalized biomarker analysis in liquid biopsies to enable precision medicine. Staahlberg described a simple and flexible digital sequencing approach that is suitable to monitor patient-specific mutations with high sensitivity, utilizing data from several clinical studies and tumor entities, suggesting that circulating tumor-DNA analysis with patient-specific panels can assist in precision medicine and cancer management.
Frontiers in technology
True to SLAS' core, this dedicated track further showcased the potential of technology in drug discovery and lab automation and covered: sample management technology; omics, big data and AI; high-content screening; and protein science.
Artificial Intelligence (AI) was explored throughout, including by Luisa Weiss, Postdoctoral Research Scientist at the University College Dublin (Republic of Ireland). In her presentation 'Deciphering OMICs data using AI', Weiss discussed how the use of AI on biomedical OMICs data will not only enable the development of novel risk stratification tools and disease biomarkers but also help to advance the understanding of molecular mechanisms underlying diseases, ultimately shaping the future of healthcare. Her team's research has utilized powerful machine learning algorithms to combine patented blood-based biomarker signals with selected maternal hematological/demographic/clinical assessment data, aiding clinical evaluation in real-time in 250 sick pregnant women.
Shaping the future of therapeutics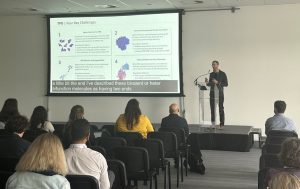 A cutting-edge topic within this field, the 'Shaping the future of therapeutics' track kicked off with a session on targeted protein degradation (TPD). This track was opened by Ben Cross, Chief Technology Officer (CTO) of PhoreMost (Cambridge, UK), whose presentation reflected on the challenges of current large-scale omics-based approaches for new target discovery in drug development, particularly for targets with limited precedent or tractability. He described the current restrictions of TPD modalities, such as PROTACs, and how PhoreMost's novel screening platform, SITESEEKER®, has played a role in the discovery and development of novel degrader mechanisms, demonstrating the breadth of the unexplored ubiquitin-proteasome system (UPS) space in this field.
This session was followed by 'RNA-based therapeutics', 'Cell therapies' and concluded with 'Gene therapies' on Thursday afternoon, where Pinar Akcakaya of AstraZeneca (Cambridge, UK) presented on CRISPR-based gene editing and its potential in the curative treatment of genetic diseases. Akcakaya covered the current strategies for mapping CRISPR/Cas9 off-target effects and associated limitations that impact sensitivity. To address this, she described the process in which her team identified a Cas9 variant of the II-B subfamily with intrinsic high fidelity, named Specific off-Target/ON-target (SpOT-ON), and the potential of this variant to enable more sensitive assessment of CRISPR/Cas9 editing outcomes, as well as more precise genome editing tools and treatments.
Bio-entrepreneurship in Europe
Providing strategic business and financial insights, this track was complementary to the conference's scientific discussions, covering three sessions: 'Funding/Investor', 'Inventor' and 'Innovation and IP Management'.
On Thursday afternoon, the track concluded with a roundtable discussion that fostered interesting conversation between Robert Harmel, Scientific Project and Industry Liaison Manager at EU-OPENSCREEN (Berlin, Germany), a not-for-profit European Research Infrastructure Consortium for chemical biology and early drug discovery, Wenyu Wang, a researcher at the University of Helsinki (Finland), and Andrea Kopp, a student at LMU München (Germany).
On the exhibition floor
The exhibition floor at SLAS Europe 2023 was impressively busy, with many companies incorporating live demonstrations, videos, featured publications and Solutions Spotlights to showcase their technology.
A central theme throughout the conference was automation and, in particular, how it can transform life science research by increasing efficiency and output of laboratory workflows.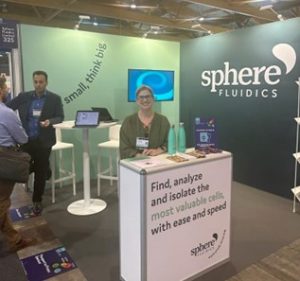 An example of this is in cell engineering workflows, which typically require multi-step operations, high hands-on time and lengthy liquid handling processes, as well as low-throughput assays for validation and verification. As part of the product spotlight sessions on Thursday morning, Richard Hammond, CTO at Sphere Fluidics (Cambridge, UK), presented on the company's picodroplet microfluidic technology and its application in creating novel, integrated and automated workflows for single-cell genome editing, cell therapy and synthetic biology. It was exciting to see Sphere Fluidics' new branding on their booth, which was unveiled at the conference.
Preparation of library workflows is often labor-intensive and it can be challenging to maintain quality when scaling up throughput; automation of such workflows is therefore a key goal. SPT Labtech (Hertfordshire, UK) ran a tutorial on the company's firefly platform, which provides complete automation of the liquid-handling steps in complex workflows, such as library preparation.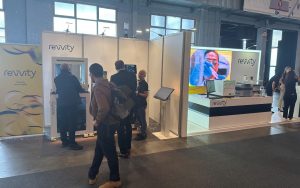 Also on the exhibition floor, and holding various presentations throughout the 2 days, was the newly launched Revvity (MA, USA), a scientific solutions company powering innovation from discovery to cure. Offering health science solutions that deliver complete workflows, the company's Solutions Spotlight 'Optimizing high-throughput assays for speed and sensitivity' introduced the EnVision® NexusTM, a next-generation microplate reader for high-throughput screening.
Only 1 in 10 new drug candidates in Phase I preclinical trials is likely to gain market approval. The need for the pharmaceutical industry to move faster and accelerate drug development is not new, and the pressure is always on to streamline progression to clinic. Developers are therefore looking to assess safety and identify risk of failure as early as possible, to save resources and costs. The conference showcased a number of technologies providing solutions to these critical challenges.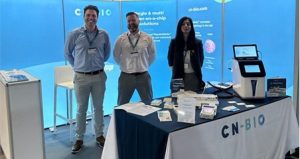 Atefeh Mobasseri of CN Bio (Cambridge, UK) delivered a Solutions Spotlight, 'Is your in vitro toolbox as cutting edge as your portfolio of drug modalities?', discussing how organ-on-a-chip (OOC) technologies such as the company's PhysioMimix™ OOC microphysiological systems can be utilized to deliver clinically translatable data to predict the efficacy and safety of drugs. In doing so, CN Bio is working to support more efficient drug discovery, bringing therapeutics to patients more cost-effectively and reducing the need for animal experimentation.
Closing remarks
Rounding off SLAS Europe 2023 was the closing keynote 'The future of AI-enabled drug discovery', delivered by Garry Pairaudeau, CTO of Exscientia (Cambridge, UK).
Pairaudeau described Exscientia's approach to molecular design using its end-to-end, patient-centric, AI-enabled platform, applicable across a diverse range of targets. The company has harnessed this capability to develop several candidates that have either entered the clinic or are in IND-enabling studies, including those that target PKC-theta, LSD1 and MALT1. This unique approach solves complex design challenges that have eluded AI approaches to date: kinase selectivity, brain penetration and allosteric inhibition. Concluding the conference, Pairaudeau emphasized the role of automated synthesis and screening in accelerating speed and productivity, and how AI design is crucial in implementing automated, digital laboratories.
Once again, SLAS Europe 2023 has succeeded in providing an opportunity to unite scientists across disciplines, encouraging knowledge sharing, collaboration and innovation. Looking ahead to next year, SLAS Europe 2024 will take place in Barcelona (Spain) and will focus on revolutionizing life sciences innovation – see you there!
---
About the author

Zyme Communications provides PR and marketing services for the life science sector to help companies raise their profile and generate interest from commercial leads, investors and partners. With an international network of life science trade media contacts and a strong technical understanding, Zyme is committed to providing real value from objective-led communications. To find out more, visit our website, or follow us on LinkedIn and Twitter.
The post SLAS Europe 2023 conference and exhibition report appeared first on BioTechniques.
Full BioTechniques Article here
Powered by WPeMatico