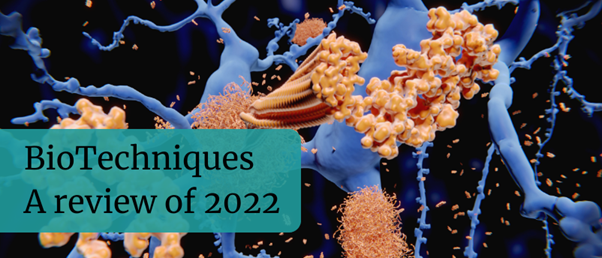 BioTechniques News
Tristan Free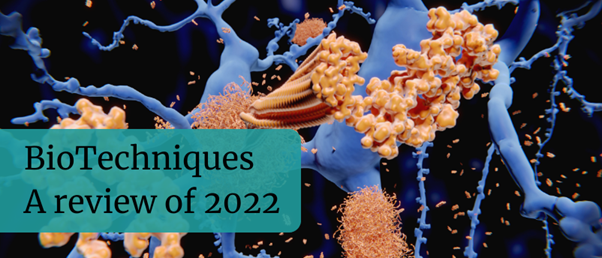 BioTechniques has gone from strength to strength this year as we increased our output of editorial content, launched two new podcast series and expanded BioTechniques LEARN, whilst continuing to deliver high-value commercially supported content in our eBooks, Webinars, Spotlights and In Focus features. Additionally, the BioTechniques team has enjoyed attending several conferences over the past year, enabling us to provide a variety of exclusive content from conferences hosted by the American Association for Cancer Research (8–13 April; New Orleans, LA, USA), the Federation of European Neuroscience Societies (9–13 July; Paris, France) and the Society for Neuroscience (12–16 November; San Diego, CA, USA).
Here, we take a look back at some of our most popular content and features as well as some of the new series we developed over 2022!
Top Content
Hate the sound of chewing? Here's why
Misophonia is a condition in which afflicted individuals are emotionally affected by common sounds, such as chewing, and until recently the mechanism behind this was poorly understood. In 2021, we wrote about a study that identified a neurological link associated with the condition, which could explain why some people find certain sounds originating from facial activity infuriating.
This article was one of our top news articles in 2021 and has continued to be a popular read. We updated this article in 2022 following the release of a new paper that contradicted the original study and contacted the authors of both studies for comment, providing you with a comprehensive overview of both of these studies and their findings.
Most cited and most notorious: how the 2006 Alzheimer's paper potentially misled research
Discussions about reproducibility have become increasingly present in the science community, and this news story emphasized why these are so important. In 2006, a paper on the primary role of amyloid-beta plaques and their role in causing Alzheimer's disease was published and has served as the scientific basis for developing an anti-amyloid-beta plaque drug, called Simufilam. However, physician and neuroscience Matthew Schrag (Vanderbilt University; TN, USA) raised concerns about the validity of this paper and found images that had potentially been tampered with and fabricated data.
Our Assistant Editor Beatrice Bowlby followed up this news story with an Ask the Experts feature, where she asked three Alzheimer's experts our burning questions on the news story. They provided insight into what this allegation means for Alzheimer's disease research as well as how this might impact peer review and publishing.
SuperFi-Case9 to the rescue: gene editing just got safer
For CRISPR to be used in the clinic, improvements need to be made in the safety and specificity of CRISPR tools. In 2022, researchers at The University of Texas at Austin (TX, USA) redesigned Cas9 to ensure that it recognizes mismatched sequences, whilst ensuring it retains the accuracy and speed of naturally occurring Cas9. This new variant is called SuperFi-Cas9 and could facilitate the wider application of CRISPR Cas systems in gene editing.
Features
Bringing the community closer to science in cancer research
Our Senior Editor Tristan Free attended the AACR annual meeting and chatted with Robert Winn and Katherine Tossas (both Virginia Commonwealth University Massey Cancer Center; VA, USA) about the importance of connecting the community with cancer research. They discuss the value of community trust to evaluate cancer clusters and the ZNA, ZIP Code Neighborhood of Association, which considers non-biological factors of cancer such as access to healthcare.
Navigating gene expression with MERFISH – the Google Maps of biology
Aisha Al-Janabi, our Assistant Editor, interviewed George Emanuel, scientific cofounder of Vizgen (MA, USA), about their new platform to streamline multiplexed error-robust in situ hybridization (MERFISH). This is a single-cell transcriptomics imaging method that measures the spatial distribution of RNA species in cells.
LEARN
The LEARN Zone provides resources for early career researchers, including careers and publishing advice as well as our new technical 'How to' guides.
How to: quantitative proteomics with stable isotope standard protein epitope signature tags
In this guide on quantitative proteomics, David Kotol (SciLifeLab; Stockholm, Sweden) explains what targeted proteomics is and outlines a workflow using stable isotope standard protein epitope signature tags (SIS-PrESTs).
How to: life in the FACS lane of flow cytometry
This is a comprehensive overview of flow cytometry written by members of the Australasian Cytometry Society. This guide includes the types of flow cytometers available, applications of flow cytometry and the types of samples that can be used as well as key points to consider when designing a flow cytometry experiment.
The power of comics and art as a vehicle for science
In this feature, the co-founders of JKX Comics write about the power of using art to communicate science and the importance of placing the scientist within the narrative of scientific discoveries, to humanize their work. This feature also includes a comic illustrating the career path of Jerry Lawson, the inventor of the video game cartridge!
If you have any suggestions on topics or would like to contribute to BioTechniques LEARN, please contact our Editor, Aisha here.
Podcasts
Our LEARN mentors contribute to BioTechniques in many ways, including STEM Tea, a new podcast series hosted by Antentor Othrell Hinton Jr, Assistant Professor of Molecular Physiology and Biophysics at Vanderbilt University (TN, USA). This series is all about the latest in social, societal and scientific developments in STEM and has covered topics including faith in science, transitioning into a professional career after incarceration and continuing the DEI journey throughout STEM education.
I can't wait to see what the future holds for STEM Tea in 2023!
We also launched another podcast series in 2022 called Editor's Picks, hosted by Aisha. This monthly podcast series gives you a bitesize summary of her favorite news stories and features of the month from BioTechniques.
Talking Techniques | The epigenetic clock
Whilst we've been developing new podcast series, Talking Techniques has continued to grow. In this series, Tristan interviews researchers about the latest breakthroughs, controversies and conversations in the life sciences. A particularly popular episode was a discussion about the epigenetic clock with Keith Boohler (Zymo Research). This episode revealed the insights that epigenetics can offer into aging, how our behaviors and environment can impact our epigenic clock and the implication of aging populations.
The post 2022 with <em>BioTechniques</em>: our top content and a year in review appeared first on BioTechniques.
Full BioTechniques Article here
Powered by WPeMatico