BIOtech Now
Andrew Segerman

Bloomberg has authored an investigative piece exposing drug cost middlemen, better known as pharmacy benefit managers (PBMs), for their role in marking up prices for common drugs and pocketing the difference.
At issue is a little-known tactic called "spread pricing", a strategy designed to pad the pockets of PBMs at the expense of the client, who in this particular case were Iowa taxpayers funding the state's Medicaid program. As pharmacist Mark Frahm learned firsthand, what one PBM charged the pharmacy, and what the PBM then billed the state for a common prescription differed dramatically.
"For years, Frahm's South Side Drug bought pills from distributors, and dispensed prescriptions to the Wapello County jail. In turn, the pharmacy got reimbursed for the drugs by CVS Health Corp., which managed the county's drug benefits plan.

"As he compared the newspaper notice with his own records, and then with the county's, Frahm saw that for a bottle of generic antipsychotic pills, CVS had billed Wapello County $198.22. But South Side Drug was reimbursed just $5.73."
So where did the $192.00 difference go? To the bottom line of the middlemen.
"'Middlemen have to make some money, but we didn't expect it to be this extreme,' said Frahm, who said his pharmacy lost money in the jail account last year because CVS paid so little. 'We figured everyone was playing fair.'"
Frahm's case, however, is not isolated. Bloomberg analyzed the data of PBM markups in Medicaid plans around the country, finding massive spreads on dozens of drugs. For example, of "the 90 drugs analyzed, which includes more than 500 dosages and formulations, PBMs and pharmacies siphoned off $1.3 billion of the $4.2 billion Medicaid insurers spent on the drugs in 2017."
But middlemen working behind the scenes to protect their profit margins is nothing new. In a state-commissioned report, Ohio officials found that PBMs billed taxpayers roughly $220 million more for prescription drugs than they reimbursed pharmacies to fill those prescriptions over the course of a year.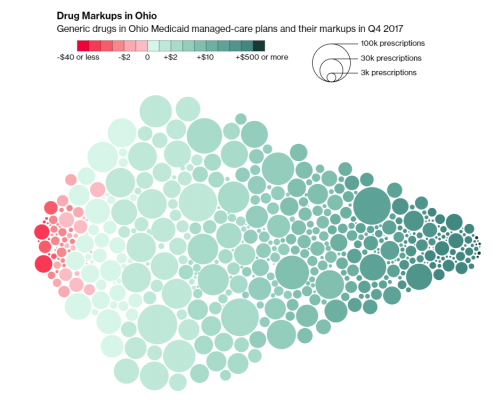 Source: Bloomberg News
Similarly, private Medicaid plans in Indiana spent more than $800 for a 30-day supply of a hepatitis B pill that cost pharmacies less than $140 to buy.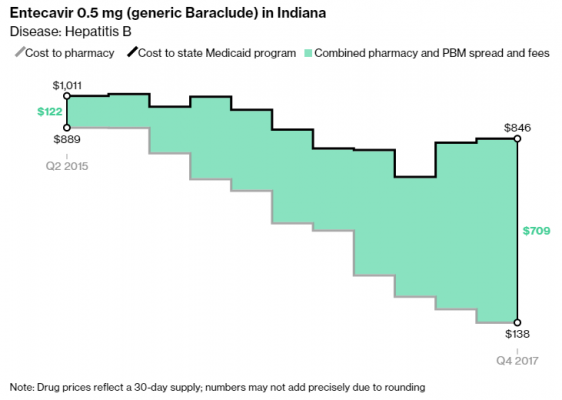 Source: Bloomberg News
As we explain in our "Follow the Pill" video, the drug cost ecosystem is more complex than most people think. Insurers and PBMs largely decide how much people pay out of pocket for the medicines they need. As Bloomberg and others have shown, the decisions these middlemen make can have costly consequences for both patients and taxpayers.
Read the full Bloomberg story here, and learn more about how the drug cost ecosystem works here.
Powered by WPeMatico