BIOtech Now
Theresa Brady


The rapid pace of scientific discovery, FDA approvals, commercialization of medicines held long in pipelines, and numerous IPOs during 2018 are driving interest in the smaller private companies with the resulting investment on pace to set a record for venture capital investing in healthcare.
It is against this backdrop that the Biotechnology Innovation Organization (BIO) will host the BIO Investor Forum in San Francisco—a biotech hub—October 17th and 18th.
Dr. Beth Seidenberg, a frequent presence on the Forbes Midas List of most successful venture investors, will be the guest speaker at a Fireside Chat on the first day of the conference. Seidenberg this month announced the founding of her new firm with an initially capitalized fund of $320M to be devoted to life sciences investments. Dr. Seidenberg is a founding managing director of Westlake Village BioPartners and a general partner at Kleiner Perkins, a leading venture capital firm. A longtime life sciences investor, she has incubated-invested 13 biotech ventures since January 2006, including ARMO, Arresto, Atara, Cell Design Labs, iPierian, Epizyme, Flexus, TESARO and True North.  Previously in her career she held senior biopharma leadership positions at Bristol-Myers Squibb, Merck Research Laboratories, and most recently was chief medical officer and head of global development at Amgen.  Her outlook on the soaring biotech market will offer rare insight into the selection process for investment in emerging companies and management skills needed for those companies to achieve their goals.
According to Forbes, the amount of venture capital raised from January through July 2018 was $15 billion—the total amount raised by healthcare companies in all of 2017 (also a good year). The total amount of money pouring in during the first half of this year surpassed that of any other first half going back to 1995.
The upcoming BIO Investor Forum will attract emerging biotech companies developing a myriad of potential life-saving medicines, therapies and treatments who are seeking to forge partnerships that could bring these products to market. It is the only BIO conference that focuses squarely on these small emerging companies, both private and public. Already there are over 200 investors registered, many coming from outside the US, particularly Asia.
The deal-making is made possible through networking activities, company presentations and the ever-popular BIO One-on-one Partnering™—a system that helps participants identify and evaluate potential partners and then pre-schedules one-on-one meetings.
As BIO's president and CEO, Jim Greenwood noted, "Investment activity in the biotech market has been strong all year. This conference is a central meeting place for research analysts, investment bankers and industry executives looking for funding opportunities that could support future medical breakthroughs. Enthusiasm for emerging biotechnology companies can be seen in the presence of investors from all over the world, particularly Asia. I am looking forward to another very successful BIO Investor Forum."
Educational panels round out the programming for the conference. This chart summarizes the program; detailed descriptions and confirmed panelists can be found on BIO's website.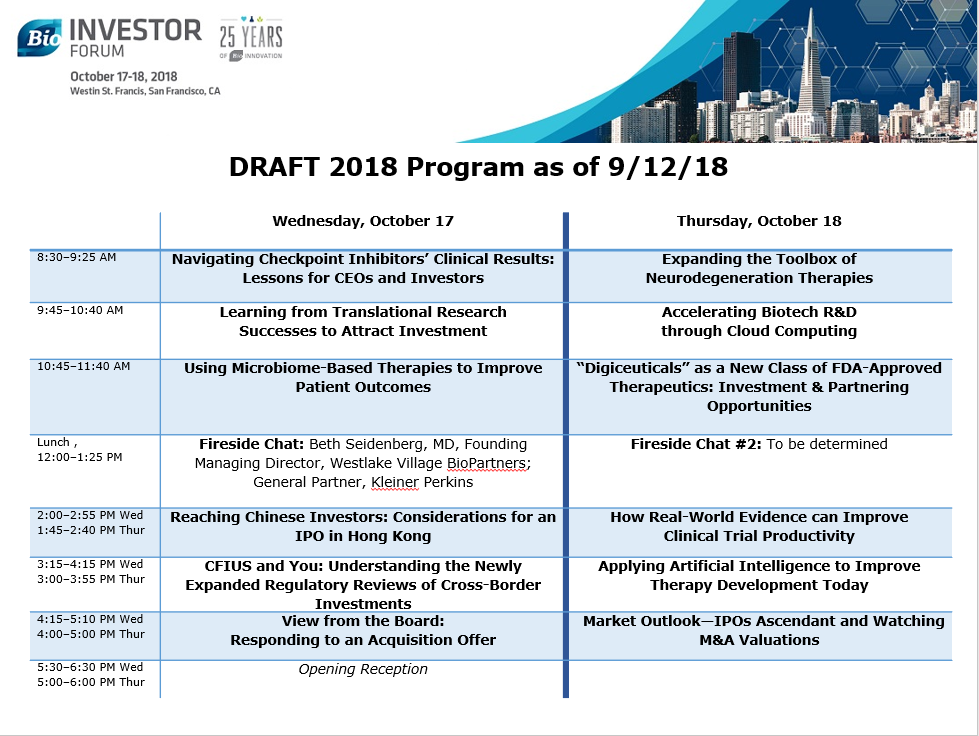 Over 170 companies will deliver 15-minute presentations on their technology and product pipelines and approximately 2,700 meetings will be scheduled through BIO's One-on-One Partnering™ putting emerging companies in the best position to strike a deal or make connections for future discussions.
Preceding the opening of the BIO Investor Forum will be the SPARK Showcase sponsored by the SPARK Program in Translational Research at Stanford Medicine which aims to advance new biomedical research discoveries into new treatments for patients. The program and reception will run from 1PM to 6:30 PM (PT), on October 16. More information can be found here.
Media registration is now open. It is complimentary for qualified reporters.
Powered by WPeMatico