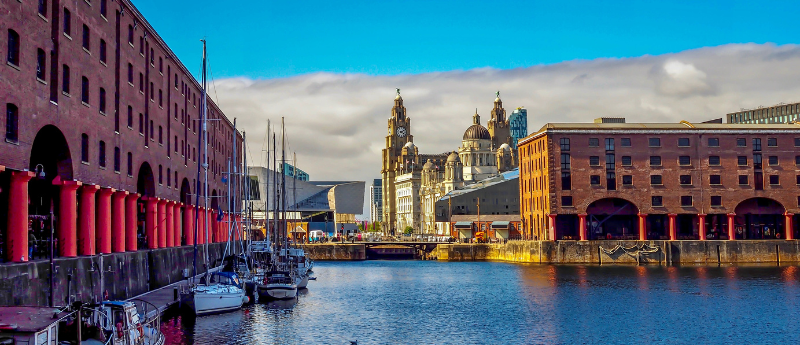 BioTechniques News
Tristan Free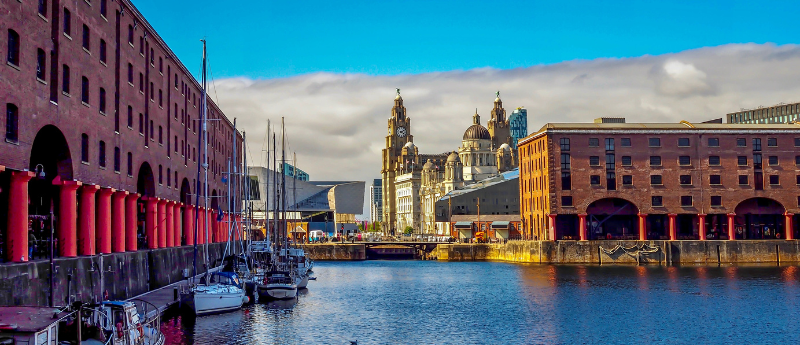 ELRIG UK's Drug Discovery 2023 took place in Liverpool (UK) on 18–19 October. Focusing on 'Diverse Thinking – New Perspectives', the free-to-attend event united all corners of the drug discovery community to celebrate the cutting-edge science and technology poised to tackle major challenges in human health.
Diverse thinking
Diversity drives life science innovation and progress. Opening Drug Discovery 2023 on Wednesday morning, Melanie Leveridge, ELRIG's Chair and Senior Director at GSK (London, UK), introduced 'Diverse Thinking – New Perspectives' as the key theme for this year, challenging delegates to "take a look with fresh eyes and an open mind".
Across 11 scientific tracks, the 2-day event engaged experts from industry, academia, and global pharmaceutical organisations in discussion on key issues and new approaches in preclinical drug discovery.
The conference kicked off with a keynote presentation from Professor Janet Hemingway (iiCON Founding Director, Liverpool School of Tropical Medicine, UK) on successfully taking infection therapeutics from hits to leads, delivered to an already packed-out auditorium. Janet provided an overview of the iiCON programme and the work it is doing to bring together industry, academia, and clinicians to accelerate the discovery, development and deployment of new treatments and products – saving and improving millions of lives through collaborative innovation. She gave the example of the consortium's work with leading Organ-on-a-Chip company, CN Bio (Cambridge, UK), harnessing the latest technological advances to accelerate translational research of new therapeutics to manage and treat major human infections, including emerging and high consequence infectious diseases such SARS-COV-2.
The cellular technologies shaping drug discovery
Critical to the drug discovery process, cellular technologies encompass a diverse range of tools being used to better understand disease mechanisms, identify novel targets, and assess potential drug candidates. Chaired by Charlotte Beaver (Wellcome Sanger Institute, Cambridge, UK) and Sapna Desai (GSK), the 'Cellular Technologies for Drug Discovery' track explored the latest innovations in the field across several disease areas, including neurodegenerative and immune diseases.
Opening the track, Frederico Dajas-Bailador (Associate Professor at the University of Nottingham, UK and Head of the university's Axon Biology Group) gave 'A view from the axon side'. Frederico explained that the axon can be in a completely extracellular environment to its cell body; detailing how the use of compartmentalised cell cultures are essential to investigating these differences and the regulatory mechanisms that control and mediate this functional polarity to improve our understanding of neuron development, degeneration, and nociception.
With targets that increase regulatory-T-cell abundance within a CD4+ T-cell population offering an attractive therapeutic strategy for immune diseases, Nazia Parvez (Scientist at GSK) then discussed 'Combined approaches to chemogenomic and functional genomic screening in regulatory T-cells using flow cytometry for inflammation'. Nazia explored the challenges of working with primary CD4+ T-cells and how high-throughput flow cytometric assays can be designed to provide hit compounds identified from a biologically annotated library alongside proteins identified from a gene-editing screen.
Transforming the cancer therapeutic landscape
The rise of immunotherapy has transformed the oncology therapeutic landscape in recent years, spurring investment into a diverse range of drug discovery approaches, from advances in medicinal chemistry that have brought previously 'undruggable' targets to the clinic, through to the bioinformatic analysis of clinical datasets to enable innovative target discovery. The 'Transforming cancer drug discovery' session, supported by Cancer Research Horizons (London, UK), showcased cutting-edge insights into these areas, and explored the importance of biotech and pharma industry partnerships in progressing novel medicines through clinical development.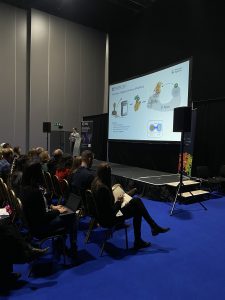 Kevin Litchfield, Group Leader at the University College London Cancer Institute (UK) kicked off the track with a presentation on 'Immuno-oncology therapeutic discovery via reverse translation in the multiomic machine learning era', exploring how large datasets generated in clinical trials, especially Phase III, can be used to reveal new targets and more specific biomarkers, and support the stratification of patient populations.
In a talk entitled 'It's degrading…. targeted protein degradation for cancer drug discovery' (pictured right), Kirsten McAulay, Team Leader at the University of Dundee Centre for Targeted Protein Degradation (Scotland) explored the challenges of working with proteolysis-targeting chimeras (PROTACs), such as understanding the half-lives of the proteins of interest in different contexts, and the high-throughput assays offering effective solutions.
In between the talks, it was great to hear the 'Technology Spotlight' from Semarion (Cambridge, UK) on its SemaCyte® Microcarrier Platform, a unique approach to tackle unmet drug screening needs. By enabling small colonies of cells to be moved and frozen in their adherent state, the platform overcomes current limitations associated with adherent cell culture and assaying workflows, increasing the volume of data collected per experiment and reducing the resource demands of in vitro drug discovery. At the conference, the company announced the opening of its Early Adopter Programme, providing researchers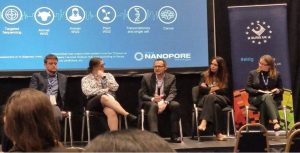 with the opportunity for early access to the technology and to gain first-hand experience of the platform and how it can improve drug discovery workflows.
Welcoming all speakers back to the stage, the track concluded with the panel discussion: 'What will prompt a paradigm shift in cancer treatment' (left).
Translating new ideas into therapies
On Thursday, the 'Translating ideas into therapies' track took a wider look at the drug discovery industry, exploring the exciting technologies and approaches that are driving new therapeutics to the clinic, including advances in artificial intelligence (AI), bi-functionals, the microbiome, repurposing existing drugs, and gene editing, to name a few.
Chaired by Hitesh Sanganee (AstraZeneca, Cambridge, UK) and Nicky Cooper (River BioMedics, Enschede, The Netherlands), the session included a presentation from Livija Deban, CSO at Prokarium (London, UK) on 'Reengineering evolution into a synthetic biology platform for novel immunotherapies'. Livija introduced how the Company is leveraging the evolutionary advantages of a proprietary strain of Salmonella as a microbial immunotherapy platform, providing a way to target the delivery of therapeutics, both in terms of time and to a specific location, to improve drug efficacy and reduce off-target effects.
Another interesting talk on 'Translating precision in microbiome science into novel medicines' from Anne Neville, Director Discovery Microbiology at Microbiotica (Cambride, UK) explained how gut bacterial culturing, microbiome analysis and bioinformatics, and microbiome/host biology profiling is enabling a new wave of precision medicines and biomarkers.
On the floor
With 160 exhibitors, the exhibition floor boasted a diverse breadth of companies enabling and delivering powerful innovations in preclinical drug discovery.

Human iPSC-derived cells play a huge role in the discovery process, from target identification to candidate selection. bit.bio (Cambridge, UK), a synthetic biology company providing human cells for research, drug discovery and cell therapy, ran an workshop on the latest advancements in the application of human iPSC-derived cells. The team also introduced its CRISPR-Ready ioGlutamatergic Neurons™, designed to significantly reduce the time investment required to produce gene knockouts and run CRISPR screens in human iPSC-derived cells.
Flow Cytometry is an effective tool for assessing the characteristics of cells, with several R&D applications, such as immunophenotyping and cell cycle analysis. At Bio-Rad Laboratories' (London, UK) booth, the team were showcasing the ZE5 Cell Analyzer in action. Now available to researchers in regulated environments for the first time, the ZE5 Cell Analyzer is a high performance, automation-ready flow cytometer with high-throughput screening and high parameter cell analysis capabilities.
Also on the exhibition floor was Benchling (CA, USA), a company using advanced software solutions to power the biotechnology industry. We learned that more than 200,000 scientists at over 1,200 companies globally — from cutting-edge start-ups to over 20 of the 50 largest global biopharma — rely on the Benchling R&D Cloud as their central source of truth for scientific data, analysis, and collaboration.
Sustainability was another hot topic at the conference. Speaking to scientists across the two days, it became clear that the need to rethink laboratory waste is becoming increasingly urgent and is an issue that is now receiving serious attention throughout the life science industry. Several innovative companies have emerged to tackle this issue, including Grenova (VA, USA). At the Tech Theatre, founder, Ali Safavi, explored 'Sustainable Strategies for Reducing Laboratory Plastics', highlighting the Company's green technology capable of washing and reusing plastic consumables to make laboratories more sustainable, efficient, and resilient to supply chain disruption.
It was great to catch-up with some of the Arrayjet (Edinburgh, Scotland) team on the floor and to learn more about how the Company's patented Inkjet technology compares to alternative bioprinting methods. Its microarray instruments harness this technology to provide the fastest ultra-low-volume dispensers on the market, powering life science, diagnostic and drug discovery workflows worldwide.
Concluding remarks
With 1800 attendees, 137 speakers, and 160 exhibitors, Drug Discovery 2023 was ELRIG's biggest conference yet, with only a few featured in this report! The event provided another fantastic opportunity for the broad life sciences community to learn, share, connect, innovate and collaborate, all on an open-access basis.
To learn more about ELRIG's portfolio of upcoming events, including specialized events throughout the year, you can visit their site here.
Looking ahead to next year's event, ELRIG Drug Discovery 2024 will be back in London, at the ExCeL – we hope to see you there!
The post Conference report: ELRIG UK's Drug Discovery 2023 appeared first on BioTechniques.
Powered by WPeMatico