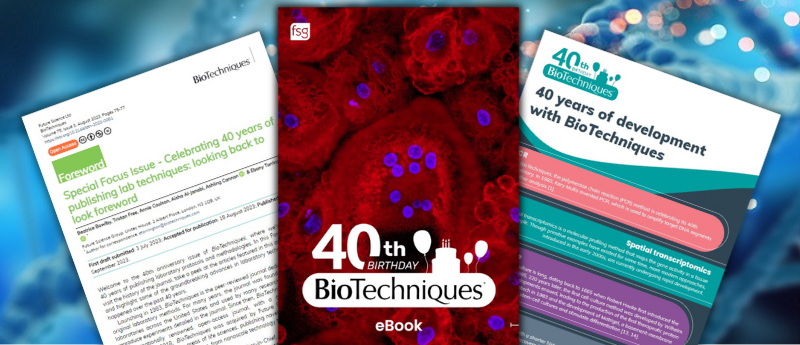 BioTechniques News
Tristan Free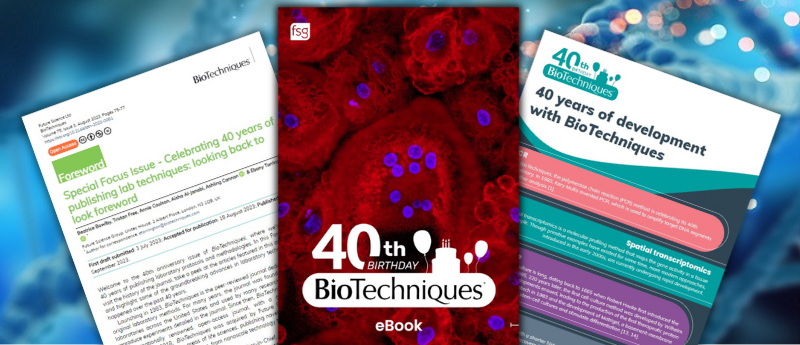 BioTechniques celebrates 40 years of publishing at the forefront of lab techniques and methodologies.
2023 marks the 40th anniversary of BioTechniques' first issue, published in 1983, the same year the concept for PCR first formulated in Karey Mullis's brain. From that moment, driven by our tireless founder Francis Eaton and as one of the first free-subscription journals, BioTechniques spread like wildfire, becoming a staple on the benchtop of basic research labs around the world, much like its contemporary PCR.
With print circulation no longer required for BioTechniques to reach its global audience, our digital offerings have expanded particularly over the last 6 years since the acquisition of the journal by Future Science Group (London, UK) in 2017. This digital expansion took flight in 2018 with the launch of BioTechniques.com, the website paired with the journal that provides news, views and multimedia content covering the latest updates in life science techniques and methodologies.
To reflect our dual formats of the peer-reviewed open-access monthly journal publication and the rolling magazine-style website, the celebrations for our 40th year have taken on a range of formats. Firstly, a special focus issue (SFI) published in September contained numerous interview features from key members of our Editorial Board. These features included 'Peter and the Beanstalk: tackling the giant questions of soybean nodulation' with Peter Gresshoff, 'Unraveling crime scenes strand by strand: the forensic odyssey of Bruce Budowle,' and 'Education in microscopy: taking a closer look with Jennifer Waters.'
To obtain a novel front cover for this issue, the first printed since 2021, we ran an image competition on BioTechniques.com. This competition was won by Sayali Chandekar (Savitribai Phule Pune University, India) for her submission 'Monstrous osteoclasts', a confocal microscopy image of bone-eating giant multinucleated osteoclasts generated in vitro from peripheral blood mononuclear cells. Alongside the image for the front cover, the SFI also includes an infographic, a behemoth effort, documenting the evolution of ten techniques central to BioTechniques' scope over the last 40 years. The feature can be found in the SFI's supplementary files and on BioTechniques.com.
Lastly, an eBook compiling our celebratory materials, our most-read journal and digital articles and our most-cited journal article closed out our celebrations. It has been a great pleasure to celebrate BioTechniques with these features and to have seen the warmth with which they have been received by our audience. Here's to 40 more years of BioTechniques!
The post Celebrating 40 years of <i>BioTechniques</i> appeared first on BioTechniques.
Powered by WPeMatico