BIOtech Now
Andrew Segerman

This week, Axios reported on new data that shows "the health care services that rack up the highest out-of-pocket costs for patients aren't the same ones that cost the most to the health care system overall." While hospital care eats up the lion's share of health care spending—a staggering $1.1 trillion—just 3% of those costs are passed on to patients. Meanwhile, insurers force patients to pick up nearly 15% of the costs of their prescription drugs, even though drug spending is smaller slice of the health care pie (and can actually help reduce the need for other, more costly health care services).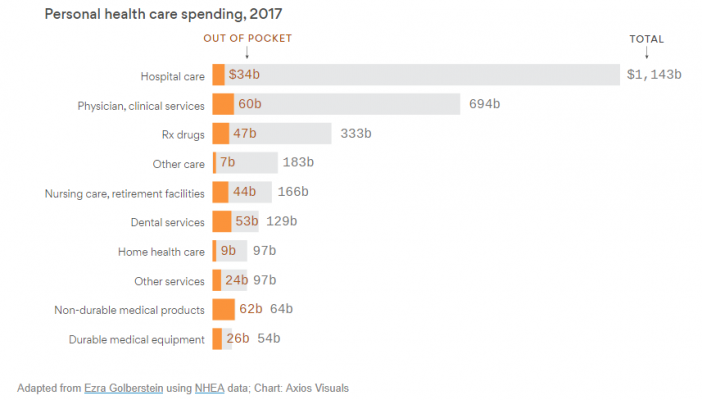 This data reaffirms that insurers continue to discriminate against those who rely on prescription medicines. It's part of a shifting burden in health care that's harming a growing number of patients. As Avalere's Chris Sloan noted, "what you pay for health care is often more influenced by your health insurance than the actual cost of the service."
For example, the Los Angeles Times recently pointed out that soaring deductibles are "leaving Americans with unaffordable bills." As the story notes:
"Soaring deductibles and medical bills are pushing millions of American families to the breaking point, fueling an affordability crisis that is pulling in middle-class households with health insurance as well as the poor and uninsured. In the last 12 years, annual deductibles in job-based health plans have nearly quadrupled …"
Similarly, Reuters examined data on out-of-pocket drug costs for people with private health insurance who had multiple sclerosis, peripheral neuropathy, epilepsy, dementia or Parkinson's disease. Individuals with high-deductible health plans paid more than twice as much out-of-pocket for multiple sclerosis drugs, researchers concluded. As Dr. Brian Callaghan of the University of Michigan in Ann Arbor explained to Reuters:
"This matters for patients because out-of-pocket costs can cause financial hardship and potentially decrease medication adherence."
These real-world examples are backed by a new survey from BIO, in conjunction with Morning Consult, on voters' views on prescription drug costs. Key findings show that the American people want policymakers to focus on lowering what patients pay out of pocket for the medicines they need.
95% of voters say prescription drug coverage is an important insurance benefit for them, and 73% of those taking prescription drugs say it is easy to pay for their medicines every month.
When it comes to concerns about drug costs, 46% of voters say its most important for policymakers to lower what people are required by insurers to pay out of pocket for medicines.
Voters picked increased competition over price controls by a more than 2 to 1 margin when asked about the best way to lower drug costs for patients.
As BIO's Jim Greenwood wrote in a piece for The Hill, limiting what seniors pay out of pocket for prescription drugs in Medicare Part D would be a step in the right direction – a recommendation that 76% of voters support. As he noted, capping seniors' out-of-pocket costs in Medicare Part D "would be a health-care accomplishment that's actually responsive to voter concerns – and one that legislators of both political parties could be proud to deliver."
Finding solutions that lower what patients pay out of pocket for prescription is more important than ever. It's the key challenge patients face and it's the one they want their policymakers to address.
Powered by WPeMatico