BIOtech Now
Theresa Brady

Dr. Aoife Brennan has always faced challenges head-on. A trained endocrinologist, she could have remained in her native country, Ireland, and led a fulfilling life as a medical doctor. Instead she embarked on a journey that eventually led to her current position as CEO of Synlogic.
Brennan will be a headliner at the upcoming BIO CEO & Investor Conference, leading a fireside chat at 3:00PM on Tuesday February 12.
Dr. Brennan's Personal Story
In her early years as a physician, Brennan had assumed her career would focus on patient care and research. That changed about 14 years ago while she was attending Harvard Medical School's one-year program on translational research training called the Global Clinical Scholars Research Training program. She happened on a course teaching the rigors of commercializing science—her first exposure to the intersection of business, biotechnology and medicine. It was then she became open to the possibility of exploring the business side of making medicine. When the opportunity to work for a small start-up came along, she jumped at it.
"…it was an amazing learning experience," she explained. "And within about six months I had been bitten by the bug and realized it was unlikely that I would ever move back to clinical medicine because I just loved the intellectual challenge, the pace, the understanding of strategy and the business. It was so fascinating to me that I basically just got sucked in."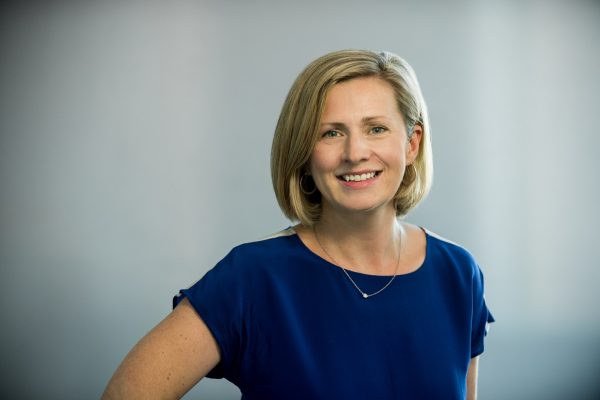 Dr. Aoife Brennan, President, CEO, CMO – Synlogic
After the small biotech failed due to a poor outcome in a Phase 3 trial, Brennan sought a new challenge in a larger company with an established revenue stream. She joined Biogen where she was charged with evaluating new technologies for potential partnerships or collaborations. When a headhunter approached her with a position at Synlogic, she felt she had the right chops to assess the technology and was intrigued enough to have the initial meeting with Synlogic's CEO.
"And we immediately hit it off" she recalled. "Something that started off as kind of a curiosity and finding out more, rapidly became a concrete opportunity for me. I started at Synlogic as chief medical officer which I continued for about 18 months. And then I became CEO in October 2018."
Brennan is part of a small group of female biotech CEOs and recognizes the important role she plays as an executive as well as a role model.
"I feel the need to be more visible as a female CEO," she says. "I actively participate in panels and speaking events. We host college and university students here all the time. And I think the more visibility that the few female CEO's have, the more people will start to see this as both a viable career path for themselves and also the more boards, VCs and others will expect that it's not a gender specific role. I've looked at the pipeline and how we lose women at a certain level organizationally.  And I think we have to do a better job".
Synlogic
Brennan agreed to make the move to Synlogic because it was doing something that no other company was doing. It was applying synthetic biology—which is used in other industries such as biofuel or industrial enzyme production—to healthcare.
According to Brennan, Synlogic is applying synthetic biology to probiotic bacteria in a way no other company is doing. "It really is focused on applying engineering principles to biological systems that basically allow you to engineer cells with a specific function under specific controls that can be designed for a defined purpose.  Our initial focus was on rare metabolic disorders. But as we learn more about our platform and we learn more about the things that our platform does well, we could think about expanding into other broader diseases that might require immune and gut interaction and other more complex areas. So, while we've decided to focus narrowly initially, we also see broad applicability for the platform."
The company has made significant progress since Brennan has been there. Two of its programs are in clinical trials and both have demonstrated that the engineered bacteria are safe, don't colonize and behave very much as they were designed to behave.
To hear more about Brennan's personal journey and that of Synlogic, register to attend the 2019 BIO CEO & Investor Conference here.
Powered by WPeMatico