BIOtech Now
Theresa Brady

When Mark Dant's son Ryan was first diagnosed with MPS-I, a rare genetic disorder that leads to organ damage, he had to buy a medical dictionary in order to decipher the words the doctors were saying to him.
"I didn't understand the language of the scientists," Dant recalled. "The key for every advocate is education. Once I was able to understand the basic terminology, I was able to ask the right questions. It's not someone else's responsibility to teach me."
Dant, who started the Ryan Foundation to fund treatment for children who live with rare diseases, was a part of the "Closing the Gap: Partnering to Invest in Areas of Unmet Need" panel on day one of BIO's Patient and Health Advocacy Summit. He and others discussed how patient-led partnerships can drive therapeutic development, particularly in areas of unmet need.
Alice Bast, CEO of Beyond Celiac, talked about how, when it comes to celiac disease, patients have had to educate the medical community. When Beyond Celiac was founded 15 years ago, only 3% of patients with celiac disease were properly diagnosed. Now, thanks to efforts to educate the public and the medical community about the fact that celiac disease is a serious autoimmune disease, that number is up to 50%.
"We've had to educate about the seriousness of the disease," Bast said. "We've also had to educate the patient community to get them to actively participate in research."
Getting patients on board begins with listening to them and finding out their needs – long before the clinical trial phase.
"We have to meet with the patients early and often," Dant said. "If you're designing a clinical trial around something you've read about the disease, you're designing yesterday's clinical trial."
And patients need to be kept informed throughout the process, noted Dr. Bernie Zeiher, chief medical officer with Astellas, who moderated the panel.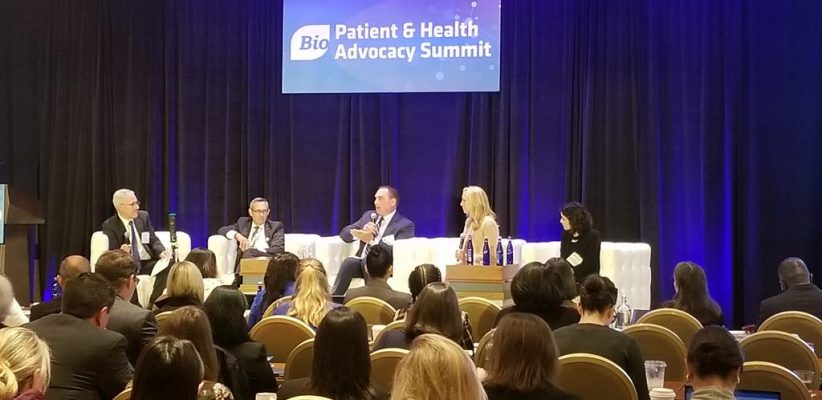 "For patients participating in clinical trials, we need to ensure that the informed consent is very clear and understandable" Dr. Zeiher said. "We also need to commit to getting trial results back to patients who enrolled in these studies.  We can't just hope they'll find them online."
For Emily Kramer-Golinkoff, co-founder of Emily's Entourage, an organization that accelerates research and drug development for nonsense mutations of cystic fibrosis, her advocacy journey also has been education and building partnerships.
"We had no background in fundraising or science, we were really desperate. So we started to fold back the different layers to understand what were the barriers between us and progress," said Kramer-Golinkoff, who was diagnosed with a nonsense mutation of cystic fibrosis shortly after she was born. "We're at point A, we're desperate to be at point B. We'll take the most efficient route to get there."
In its short history, Emily's Entourage has raised millions of dollars for research and established a patient registry for people living with nonsense mutations of cystic fibrosis. Kramer-Golinkoff says that relationship building has been a vital part of their ability to ensure that patients with nonmutant cystic fibrosis get the attention they need from scientists and the drug industry.
"Researchers are human, they have big hearts. This is personal for them too," she said. "We encourage patients to realize the power of your voice and your story."
John Bardi, senior vice-president at Intra-Cellular Therapies, a biopharmaceutical company developing novel drugs for the treatment of neuropsychiatric and neurodegenerative diseases, echoed that sentiment.
"I'm coming from the other side with a lot of personal passion. What we need to do is inspire hope in our science," he said. "Our scientists are incredibly caring, passionate people who need inspiration. There are days that are great and days that are not so great – they need your inspiration to keep that fire burning in them. Those laboratories are alive with incredible people but they need you behind them."
Powered by WPeMatico